Beam Delivers Strong Finish to FY23 With Further Growth in Cash Flows
MELBOURNE, AUSTRALIA, 28 July 2023: Activities Report and Appendix 4C: Strong Finish to FY23 with further growth in cash flows.
Highlights:
● Net operating cash inflow jumps 75% quarter-on-quarter (QoQ) to $2.5M and cash balance increases 39% QoQ to $5M at the end of the June quarter
● Beam records sales/royalty increases across all its business units as it benefits from strong growth in the global mobile satellite market
● Beam Equipment sales (ex ZOLEO) increased 22% QoQ; SatPhone Shop sales jump 53% QoQ and ZOLEO annualised royalties up 18% QoQ to $870K
● Net ZOLEO ANZ subscriber numbers jump 20%+ QoQ to >6.2K and global ZOLEO subscribers increase 14% QoQ to ~71K
● ZOLEO Inc. JV, 50% owned by Beam, forecast to post total FY23 revenue of US$27M (circa two-thirds recurring)
● Beam reaffirms record earnings and revenue guidance for FY23 and a positive outlook for the current financial year
Beam Communications Holdings Ltd (ASX: BCC, "Beam" or the "Company"), a leading developer and distributor of mobile satellite solutions and services, is pleased to provide an overview of activities and commentary for the three months ended 30 June 2023 (4QFY23), to accompany the Appendix 4C.
Summary of Cash Position
Beam recorded another quarter of positive net operating cash flow as its cash holdings increased materially over the previous quarter. The Company posted a 75% increase in net operating cash inflow to $2.4 million and a 39% uplift in cash and cash equivalents to $5 million when compared to 3QFY23.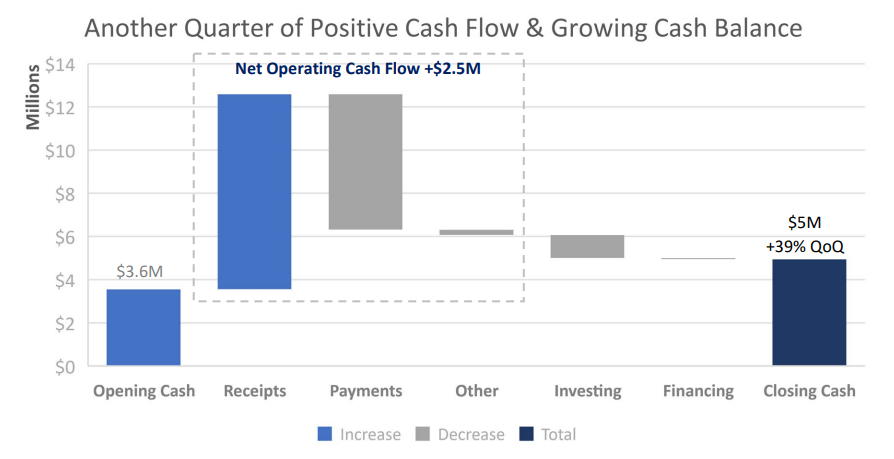 The increase in operating cash flow is driven by the further unwinding of trade working capital and lower capex requirements following the successful launch of the Iridium GO! exec® device, as highlighted in Beam's previous announcements.
While it is normal for the level of cash flows to vary between quarters due to the timing of payments and receipts, the Company's trend of positive operating cash flows is expected to continue, on current projections.
Additionally, Beam has reaffirmed its record FY23 guidance. Group revenue is forecast to come in at circa $40 million, earnings before interest, tax, depreciation and amortisation (EBITDA) to reach approximately $4 million.
Beam's total available funds as of 30 June 2023 were $6.1 million, which includes $5 million in cash and a further $1.1 million in available and undrawn debt facilities.
Operating Activities
These very pleasing results were driven by growth across all of Beam's businesses. The global mobile satellite services sector is expanding strongly, and Beam is well placed to benefit from this bullish trend.
Beam Equipment (excluding ZOLEO) sales continued their strong run as they jumped 22.3% QoQ. This growth included, but is not limited to, sales of the recently launched Iridium GO! exec® device.
Beam has signed a 5-year US$12 million contract to develop and supply the portable satellite hotspot to Iridium Communications Inc (Nasdaq: IRDM). As of 30 June 2023, Beam has delivered 40% of the contract and anticipates that it will fulfil 80% of the commitment by the end of FY24, well ahead of schedule, to meet demand.
Meanwhile, Beam's wholly owned SatPhone Shop business, which is also Telstra Group Limited's (ASX: TLS) largest satellite dealer, recorded a 53.1% revenue increase, QoQ.
Separately, recurring revenue from ZOLEO Inc. to Beam continued to increase as Australia and New Zealand subscriber growth accelerated in the quarter. Net ANZ subscriber numbers jumped 23.2% QoQ to over 6,200 as annualised royalty payments1 increased by 18.2% to around $870K.
To fulfil Beam's continuous disclosure obligations, as the performance of ZOLEO Inc. has become material to the Company, and in the interest of helping shareholders comprehend the value of the 50%-owned joint venture, Beam noted in its most recent announcement that the total number of
global ZOLEO subscribers was circa 71K at the end of the quarter, and that the JV is forecast to record total revenue of US$27 million in FY23, of which US$17 million is subscription revenue.
Importantly, Beam's total recurring revenue has also grown 17% QoQ in 4QFY23 and has nearly doubled vs. the PcP. This higher margin recurring revenue is made up of ZOLEO royalties and the sale of airtime to enterprise, government and consumer clients.
The largest operating expenses in the quarter were $4.6 million for product manufacturing and operating costs, $0.9 million in staff costs and $0.7 million in admin and corporate costs.
Commenting on the quarter, Managing Director, Michael Capocchi said:
"We ended the financial year on a solid footing and are well positioned to deliver record results for shareholders in FY23. Pleasingly, we continue to be well placed to capitalise on the growth of the global mobile satellite services sector with our range of unique and innovative devices and solutions.
"Further, we are increasingly upbeat on the expected returns from our ZOLEO Inc. JV, of which Beam owns half , as its performance to date demonstrates the value of Beam's stake in the JV. We believe Beam's outlook in the current financial year remains very positive and our strong balance sheet and growing cash flows will give us options to pursue new opportunities for growth over the short- to medium-term."
Investing and Financing Activities
During the quarter, Beam capitalised $1.1 million in product development costs and invested $13K in computers and warehouse equipment. The Company also recorded an outflow of $51K that is linked to its property lease liability.
This announcement has been approved by the Board of Directors.
--
For media and investor enquiries please contact:
Brendon Lau
e: This email address is being protected from spambots. You need JavaScript enabled to view it.
m: 0409 341 613
About Beam Communications Holdings Limited
Beam Communications Holdings Limited is an Australian publicly-listed company (ASX:BCC) that specialises in the design, development, manufacture and distribution of satellite, cellular and dual-mode equipment applications and services. Beam has developed several world-first innovations and its products and services are adopted by some of the world's largest satellite and telecommunications companies, such as Iridium, Telstra, KDDI, Inmarsat and Thuraya. Beam also developed the multi-award winning ZOLEO device, which generates recurring subscription revenues for the Group. Beam Communications Holdings Limited owns 100% of Beam Communications Pty Ltd and SatPhone Shop Pty Ltd www.satphoneshop.com. For more information, visit www.beamcommunications.com.
About ZOLEO Inc.
Formed in 2018 and headquartered in Toronto, Canada, ZOLEO Inc. is a joint venture between Beam Communication Pty. Ltd. and Roadpost Inc. that is pioneering the development of innovative lower cost, consumer-oriented global messaging solutions, including innovative wireless devices and apps based on Iridium short burst data (SBD), cellular and Wi-Fi standards. The company serves three primary markets including consumers residing on the fringe of cellular coverage, outdoor recreation and lone worker safety. Its products are offered through authorised retailers in the US, Canada and Australia. Roadpost is responsible for retail distribution in North America and Beam is responsible for the Asia Pacific region. Staged distribution in other regions will be jointly managed. For more information visit www.zoleo.com.